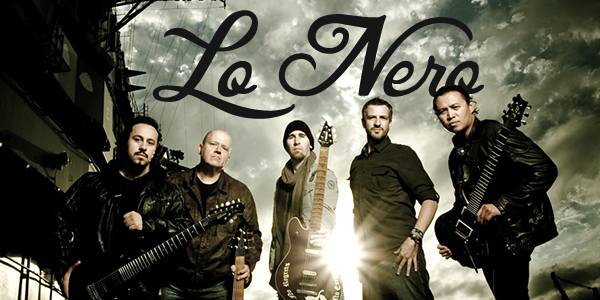 Lo Nero
Gig Report (original english version)
Gig Report (original english version)
LoNero
T.T. the Bear's Place
Cambridge, Massachusetts, USA
October 18, 2014
(by Michele D.)
T.T. the Bear's Place was LoNero's 9th stop on their 16 city U.S. tour supporting the well-known guitarist Tony MacAlpine (soloist, Planet X, CAB, Steve Vai, and featured guitarist for Michel Polnareff's 2007 comeback tour in France). T.T. the Bears, located in Cambridge, Massachusetts (USA) less than two miles from the world renowned Berklee College of Music, is a 200 to 300 person venue known for live rock, indie rock and metal music. The close approximation to Berklee alone draws people with an ear and appreciation for quality music.
Most fans were at T.T.'s for the rare opportunity to hear and see Tony MacAlpine live and up close. However, when this little known band, LoNero, took the stage and opened their set with "Defiant" the crowd seemed genuinely surprised by both the talent and the power of the music. Heads were rocking and LoNero was winning everyone's attention. The look on faces seemed to ask -"Who are these guys and where did they come from?" When a member of the audience finally asked, LoNero continued to surprise everyone with a simple statement that they were from California – over 3000 miles (4800 kilometers) away.
LoNero is 5 musicians whose blended talents showcase great chemistry. With power and precision there was never a moment where anyone in the audience was waiting to hear vocals. LoNero proved that great rock music doesn't always need lyrics. The rhythm and melodies of their songs speak for themselves.
In addition to "Defiant" the set introduced us to "The Burning of Ideals", "Perception" and "The Machine" from their upcoming CD The Defiant Machine. If this crowd's reaction is an indication, "Defiant" should be a big hit for the band. Thrown into the middle of the set was a fun mix of "Automatic" from the 2007 Restless CD and the theme from the Rocky movie. Smiles were all around along with the desire to re-enact Rocky's run up the steps of the Philadelphia Museum of Art.
Was LoNero's set perfect? Probably to the very trained ears of some of the audience it wasn't. But it was live, engaging and for those of us who aren't musically trained it was amazing to watch and hear. The only problem with LoNero's set? It was too short! Can't wait for the release of The Defiant Machine and hope it brings LoNero back to this end of the country - soon
Set List:
Defiant (The Defiant Machine – to be released 2014)
Loose (Relentless – 2007)
The Hammer
Eden (J.F.L. – 2011)
Automatic (Relentless – 2007) w/ Rocky
Oblivion (J.F.L. – 2011)
The Burning of Ideals (The Defiant Machine – to be released 2014)
Lost
Perception (The Defiant Machine – to be released 2014)
The Machine
Picture: The Great Southern Brainfart